What is Workaway?: Workaway Review: 13 things you should know before your first volunteer abroad experience
Workaway is a work and volunteer organization where you can volunteer abroad in exchange for free accommodation and food. It's an attractive website to find volunteer work and opportunities as it allows travellers to travel for free. Transportation expenses are covered by the Workawayer. 
Workaway invitation code:
To get 3 months extra for free, use this referral code
What's included: access to 50,000+ volunteer opportunities (abroad and opportunities near you) in 170 countries. You can also access the full travel buddy list to find your travel partner to accompany you on your next trip! 
Where can I find volunteering opportunities near me?
Head on over to the Workaway host list, click the search bar and you will have the option to select 'Hosts in my country'. Pro tip: if your home country is big, you can select the 'show map' option to see all the hosts near you on a map view. (Note: this is only for paid members, you can sign up here to get an extra 3 months for free with this discount code)
On the host list filters, you can select 'NGO' host type or 'Animal welfare' if you are only specifically looking for NGO organizations and volunteering opportunities. There are other host types such as 'Farmstay' and 'Hostels' that may be paying hosts offering paid work. 
Can I find paid volunteer work?
Yes! Hosts that are offering paid work will have a 'Paid position' label on the host list and when you click into their host profile. If you have signed up as a paid member (3 months extra for free with this invitation code), you can access the full list of paid positions on the Workaway phone app.
Most of the paid volunteer work includes of business type hosts, such as: hostels, guesthouses, business farms, horse riding schools, cafes and more! Some non business hosts may also offer paid work. Hosts that are looking for au pairs or homeschool teachers may be asking for more than the maximum of 25 hours per week of help. In this case, they will be paying a salary or an allowance.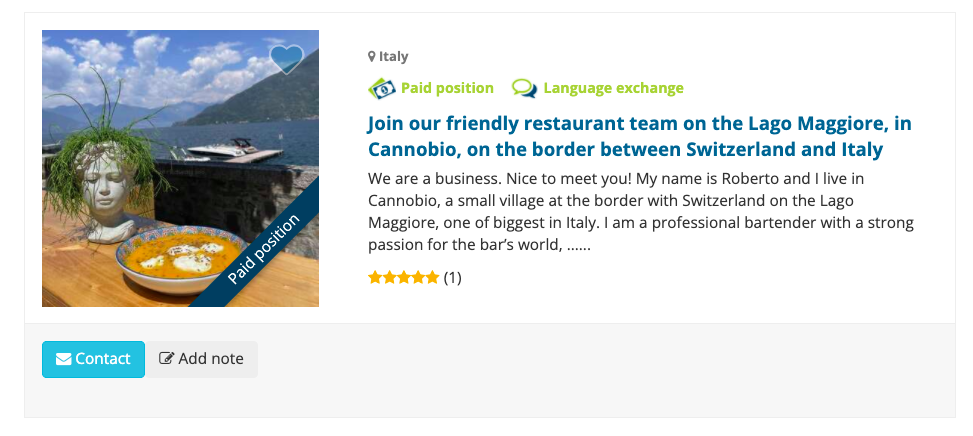 How can I volunteer around the world and travel for free?
A Workaway experience includes of helping the host out, and in exchange, they offer free accommodation and food. This means all you have to sort out are the travel expenses to get to the host (and back home! :P).
There are definitely lots of Workawayers that have travelled for years with Workaway, while keeping costs low. If you apply for paid work with Workaway, you could even be earning money! Infinite travel possibilities and duration 🙂
Workaway has over 400,000 feedback left by hosts and Workawayers on their Workaway experience. You can message these Workawayers and hosts via their website if you wish to ask for more details on their experience. Always a good idea if you have any extra questions or doubts for a specific host you are planning to go to! 
Workaway also has lots of feedback and scores highly on Trustpilot. 
How to find a travel companion
You can find a travel buddy on Workaway that is going to the same destination as you! Filter by dates and location (or without!)
Alternatively, you can meet up with people nearby or in your home country and see if you guys have interest in the same places. Finding a travel partner may help you to reduce the transportation and accommodation costs (if you plan to travel during the weekend or after your Workaway) 🙂 You can also do a combination of having a travel buddy and travelling solo when you jump from one host or destination to the other. Mixing the two is a great way to experiment with travelling solo if this is your first time! 
How much does Workaway cost?
As of today, a Workaway one year single membership is $44 USD. If you get a couple account, it would be cheaper than linking two single accounts. To get an extra 3 months on top of your one year membership, you can use the Workaway invite code here. Once you're a verified member, you can also share your own referral code to get extra months on your account when your friend signs up. 
What is a Workaway job? Do you get paid on Workaway?
A Workaway job is one where you can get paid. There will be a 'paid positions' label when you view the host list and host profile. Normally, all the paying hosts are business hosts and ones that are in first world countries. There may be exceptions to this as well, when non business hosts like families need more than 25 hours of help a week, so they would pay a wage or allowance for any extra hours. 
What should I ask my Workaway host?
These are some questions you should ask your Workaway host so that you have a clear idea of expectations and things that are offered by your Workaway host:
How will my week look like? (What are the hours involved and when is your time off)
Will we share all meals together or is it a help yourself/DIY situation with ingredients provided? (Let your host know if you have any dietary requirements)
Is it a location connected to convenient public transport or would you (the host) be able to drop me off at certain places for my free time to explore the area?
Would you like to do a video call/whatsapp call? (Get to know your host and ask any questions that might pop up when they provide you with more details that might not be on the listing)
Let your hosts know your ideal Workaway exchange! (Maybe you'd like to have evenings together to play board games but would also like privacy on some nights? Good to ask your host on how they'd like to interact)
If working hours are important for you, you could ask the host if they are flexible, so that you can do all your hours on 3-4 days and get the rest of the week off 🙂 More time for exploring places that are further out or in another city!
How do I apply for a Workaway?
Sign up to Workaway for one year access to the host list (use this Workaway invitation code to get three months extra for free). Browse volunteer opportunities abroad or near you, and start messaging the hosts! Be sure to read their profile and mention why you'd like to stay with them (everyone can tell if you've just copied and pasted the same message to hosts). It's also good to keep your profile up to date and upload some photos (a clear photo of yourself and maybe ones that are related to your skills or experiences). 
Pro tip: mention that you'd be happy to do a video call/phone call to show your sincerity 🙂 Also read the questions above that you could ask a host so that both your expectations are shared before you arrive at the hosts' place!
Is Workaway free for hosts?
Yes! Workaway is free for hosts. You can sign up as a host, fill in your profile, and the Workaway team will review them manually, so be patient 🙂 They may get back to you on extra info that you're missing from your profile. 
Number of hosts: Workaway has over 50,000 opportunities, whereas Helpx has 15,000 
Number of volunteers/travel buddies: Helpx only has around 500 active volunteers, so Workaway has a lot more (number is not disclosed)
Feedback: There are more reviews on Workaway on both the site and on Trustpilot
Variety of experiences: Both sites have a variety of experiences, but since Workaway has over triple of the amount of opportunities, there will be more variety of help on Workaway. 
Number of hosts:

Workaway has over 50,000 opportunities, whereas Worldpackers only has 3500-5000 

Number of volunteers/travel buddies:

Based on the number of hosts and by browsing the site, Workaway also has more volunteers that Worldpackers

Feedback

: There are more reviews on Workaway on both the site and on Trustpilot

Variety of experiences:

Workaway has more variety of hosts and locations than Worldpackers

Price: Worldpackers price is $49 USD and Workaway is $44 USD
Variety of experiences: WWOOF is focused on only featuring farm hosts, whereas Workaway includes farming opportunities but also others like schools, NGOs, hostels, homestays and housesitting 
Variety of locations: For one price, you can access all 170 countries on Workaway. With WWOOF, you can only access farms in one country. For each extra WWOOF country, you will need to pay a separate fee. 
Price: WWOOF price is $55 USD for (e.g. canada) and Workaway is $44 USD for all countries
Value for money: If you'd like to travel abroad for free in more than one country, Workaway would be better value for money