Take Out Plastic tackling single-use plastic | Sustainability Hong Kong
Check out one of Hong Kong's sustainability advocate, Take Out Plastic, a community trying to tackle and reduce single-use plastic in Hong Kong. If you've missed our previous one, here's a link to the eartheroproject's story, another sustainability advocate on low waste habits and starting their own eco fashion brand.
What inspired you to start promoting sustainability?
Jayme: "I've been pretty lucky to have grown up in the countries that I have. My childhood was spent exploring the rainforests of Papua New Guinea, snorkelling the pristine reefs of Australia and going on safaris in South Africa with my grandparents. This sort of lifestyle, albeit extremely privileged, gives you a deep appreciation for the environment, and I've always felt it was my responsibility to protect it.

I moved to Hong Kong in February 2020, just before COVID19 hit the rest of the world. After a year of living here, I started to think that something had to be done about all the single-use plastic being used. But, it was after spending 3 weeks in hotel quarantine that set me over the edge and with that Take Out Plastic was born."
Tackling single-use plastic by starting off with food delivery services
"At Take Out Plastic we believe to effectively combat the "Plastic Bag Culture" Hong Kong needs to severely reduce its overall plastic consumption. We see Take Out Plastic as an instrument to raise public awareness of the harmful overuse of single-use plastic, which right now is extremely lacking.
Take Out Plastic is a community-wide effort to help reduce single-use plastic in Hong Kong. Our first mission is to tackle food delivery services and their supply chains. To bring home the all-important message of "avoid, reduce, or reuse" all plastic products."

Share with us your journey! How do you juggle a full time job and your sustainability project?
"I currently work full time as the Marketing Manger at Sustainabl. Planet, a packaging company with a purpose! We strive to bring our customers fully customisable, responsibly sourced, plastic-free, home compostable and recyclable packaging solutions which ensure our products do not pollute our oceans or contribute to the increasing amount of global deforestation or unnecessary waste going to landfills.

I love my job and it plays in really nicely with the goals I hope to achieve with Take Out Plastic, which is currently 100% run by myself and a team of volunteers."

What experiences helped you to start this journey promoting sustainability?
"Going to school and university in Australia really set me up to appreciate a country that respects and protects nature. Moving to Hong Kong I was shocked and the amount of litter and overall disregard of the natural environment."
"Knowing that there are places like Australia doing it right, gives me hope for Hong Kong."
Future projects: Hong Kong's Biggest Beach Clean Up!
"We are currently planning an event we hope will get everyone excited – Hong Kong's Biggest Beach Clean Up! This initiative is inspired by "Clean Up Australia Day," which empowers communities toward conserving and protecting our natural environment. This will be a public event that we have tentatively planned for April 9th [First one in 2022]… so keep your eyes peeled!"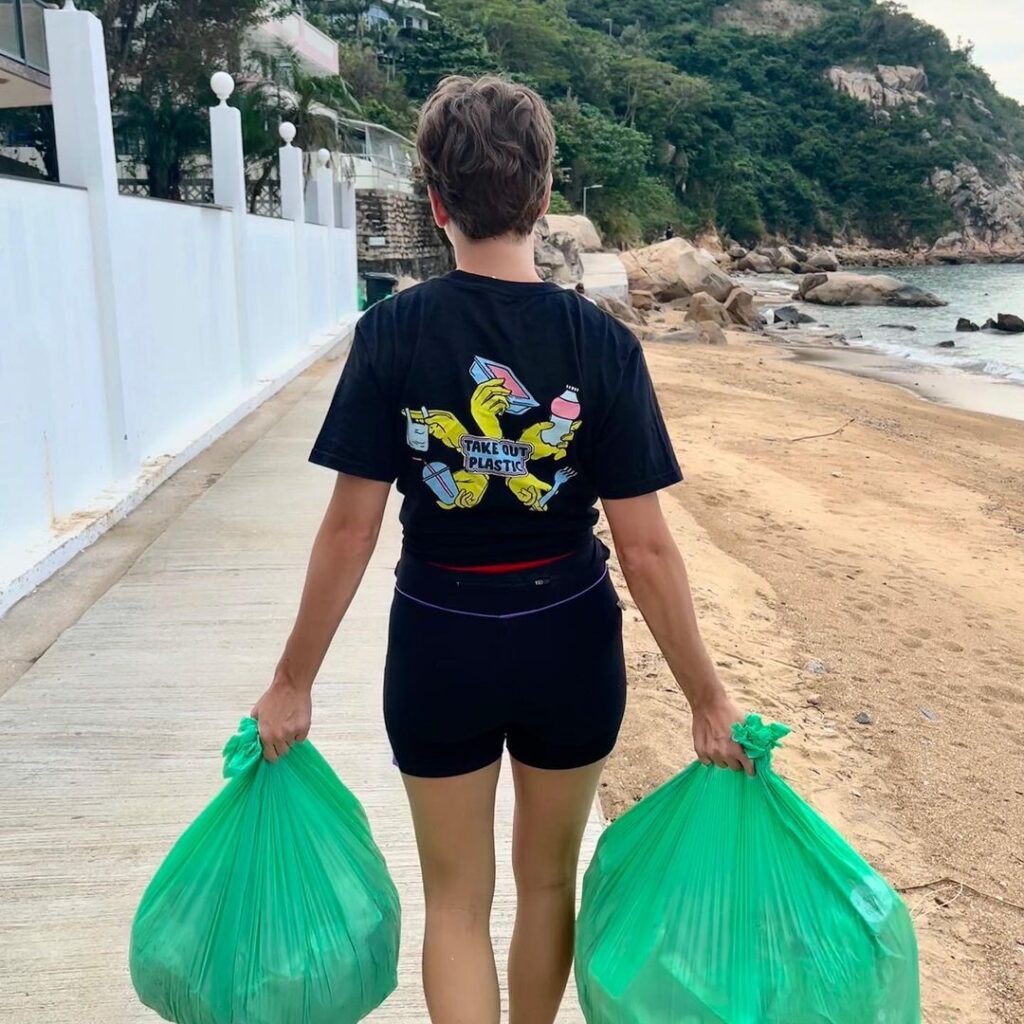 If you could create one rule that everyone has to follow, what would it be?
"Reduce, reuse, refuse or recycle - everything!"
"I also love this quote: "Unless someone like you cares a whole awful lot, Nothing is going to get better. It's not." ― Dr. Seuss, The Lorax"
How can we start our sustainable journey?
"Being a conscientious consumer can be exhausting. You will spend a lot of time reading, researching about products and the role they play in the world and this can at times be really daunting. My advice is to keep positive, and take it step by step; maybe not everything you do that day is the most sustainable choice, but you're trying and improving and that is what is important!"
Connect with Take Out Plastic