Best cheap eats in Hong Kong | Foodie Favourites
Looking for the best cheap eats in Hong Kong that don't break the bank? Hong Kong is a food heaven where you can go big or go small. The spectrum ranges from food fit for a king and meals the price of a coffee. Cheap eats doesn't mean that it won't be tasty: here's a virtual trip for you with hand picked favourite cheap eats from HK foodies! If you like noodles or dumplings, then you have plenty of affordable options around town. 
Cha Chaan Teng: Australia Dairy Company
Everytime I step into a caacanteng, I look for the macaroni soup. To me, this is a personal favorite among all of Hong Kong local foods.
"Australian Dairy Company" has the BEST macaroni soup I've ever tried in Hong Kong(and I've been to many places). They keep their local atmosphere and is very fast paced. The service is not the best, but their food makes customers come again! Super cheap and filling!
I recommend getting the Pineapple Bun/condensed milk toast with your meal!
Cheap eats local food: Tung Tat Food Shop
This is my go to place to bring tourists to get a taste of Hong Kong! They are famous for the fat noodles in the picture with colourful toppings and also their spicy chewy fish balls 🙂 It's a one stop shop for siu mai, sticky rice (chii fan) and cheung fun (rice rolls). Got to dose the rice rolls in soy sauce/sweet sauce/peanut butter sauce for the full experience of all the flavours! Which ones are your favourite out of all the local snacks? If you go to the Mongkok branch, it's also the perfect opportunity to bring tourists to fa yuen street, fish street, bird street and the flower market! It really is a one stop paradise!
I am also a big fan of dumplings! My recent favourite is 甜記餃子🥟. It's under $50 and you can get for around 8-10 dumplings. Love the thin piece of dough surrounding the minced-meat filling! My favourite place when I am craving for dumplings!
Vegetarian: Paradise veggie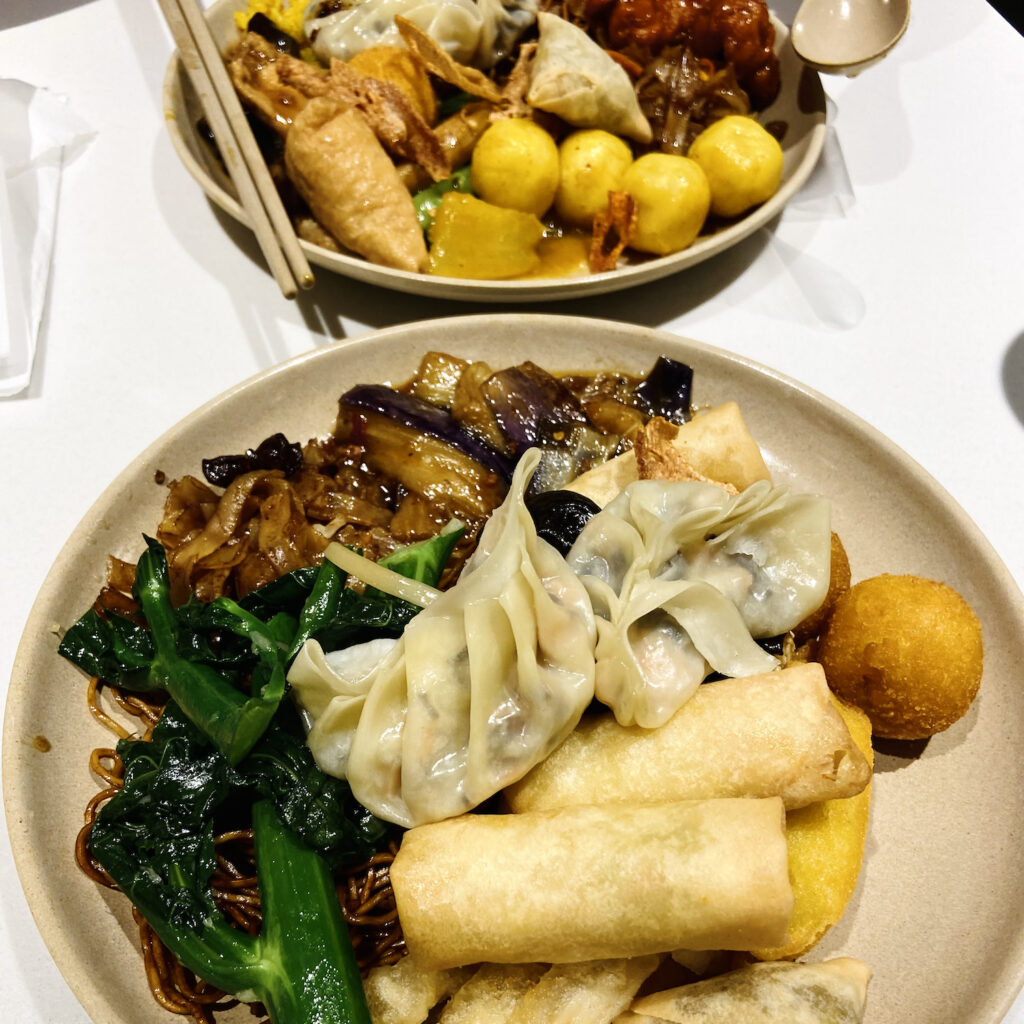 Paradise Veggie has been one of our favorite cheap eats. It's a vegetarian Chinese buffet located in Causeway Bay and has a lot of varieties including; noodles, veggies, dumplings, and even brownies (HKD$78)!
Modern Japanese & Chinese fusion anyone?
Kikusan is a restaurant located in Central(with other branches around Hong Kong) with cozy interior. You will be welcomed with friendly staff who are open to giving great recommendations depending on your current cravings! (Was extremely helpful to me since I'm HORRIBLE at making decisions when ordering.)
It looks like a fancy restaurant, and the interior really does factor to it, but the prices are surprisingly reasonable! Most of their rice dishes, noodles, and salads are under 100HKD!
I recommend the 'Udon with the sesame sauce' and 'Pork Slice with Rice'!
Besides the Veggie Kingdom, we also enjoy the salad at Chef's Market (Central market). Salads are usually not a go-to for us, but this one we don't mind eating. The salad bar allows you to add as many vegetables, proteins, and nuts in your bowl all for HKD$78. That's what we call 'value for money. 
Cheap eats: Zeppelin Hot Dog
For all the Hotdog lovers out there!
As a hotdog lover myself, I've always had my cravings of a good ol' hotdog! In Hong Kong, I have never really been able to find hotdogs that could impress. But recently, I came across a hotdog restaurant with compelling reviews.
@zeppelinhotdog provides diverse menus to match each customer's taste! From spicy chili hotdogs (for those who enjoy their hotdog spicy) to hotdogs with a significant volume of cheese 
!!
Definitely recommend trying this out!