8 things you should know about being a film producer | Career stories
Hello Hong Kong career stories! Do you know what it's like to be a film producer? Let's take a look at what Hrisheek Panchmatia gets up to and insights he has on entering the film industry in LA!
1. The best and worst part of his job
2. A day/week into a life as a film producer
3. Three things you should know before being a film producer
4. Three things you can learn by being a film producer
Hrisheek's story: I work within Hollywood as a Film Producer/Talent Manager. I have a very unique story as I was born and raised in Hong Kong and studied Economics and Finance at The University of Hong Kong. But upon my graduation I decided to give myself 6 months to explore the film industry in Los Angeles, something which was always a dream of mine. Those 6 months have now turned into 3 years and I am grateful enough to say that through a long and tumultuous journey, I have gotten to work with a handful of A-list talent on their projects. 
I actually started off as wanting to be an actor, and so I have a lot of insight there into the process of 'Making It' in Hollywood and advising on how best to navigate it.
I've been on projects such as 'Get Lost', (Terrance Howard, James Cromwell),
Ridley Scott's 'House of Gucci', (Lady Gaga & Al Pacino), and 'Napoleon'.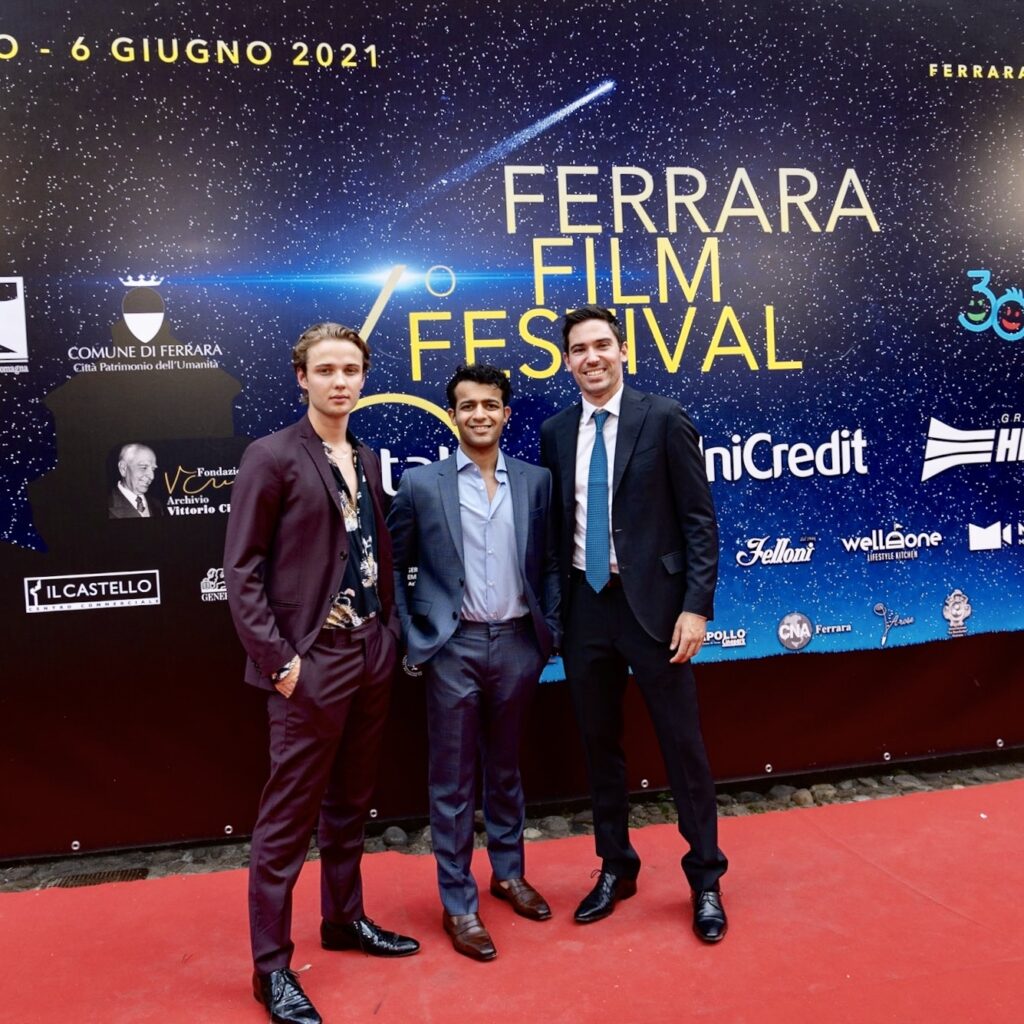 What inspired you to want to be an actor originally? And what made you change your mind to go into the film producing industry?
I have always been fascinated by Film and TV and wanted to be involved in that 'world' of Entertainment. Acting seemed like the most accessible way to get into the industry, most probably because I grew up watching them.
"That's the thing in this industry, as an outsider, it can be difficult to know what options and opportunities lie out there"
When we watch our favourite movies, we see about 1% of the full production team. 
After about 3 months of taking classes and courses in LA I realized it wasn't for me. But still, I was drawn to the industry. The founder of the school introduced me to her production company and walked me through the different roles on a film set. I came to realize that there is something for everyone.
The more I learnt about Producing the more I was drawn to it. When I set foot on my first film set, it was as clear as day that this is exactly what I wanted to be doing and where I wanted to be. Film production is so fascinating because from the outset it can feel like there are such few roles involved but when you go deeper you actually see that there is a plethora of different opportunities within the industry, all suited for people of various backgrounds and skill sets. There is a place for everyone. And this is something that I believe more light should be shed on, as I know countless people who are fascinated by the industry but do not pursue it due to the belief of limited opportunities within it and I hope that this is something that continues to change.
Can you share what your typical day/week looks like as a film producer?
There really isn't a typical day/week especially when working in entertainment. You are always 'on call' so to say. The most important thing is always being reachable and ready to execute. It is a fairly flexible job, the only trade off is that you need to be ready at all times.
When on a film set, the routine changes. Right now, I am in London on a shoot for Apple with an actor that I work with. I usually spend the first half of the day on set making sure that everything is running smoothly. Then once its morning in the US, I check in with my colleagues and see what needs to be done for other projects we are working on. At the same time, I have other actors that I work with. Lots of time goes into reviewing scripts they are given or help them acquire and develop intellectual property that they are interested in. A film that I was on last summer is in post production right now so typically I will spend part of my day reviewing the latest footage from it and giving feedback as well as working on distribution ideas.
[The feedback] varies between projects and their stages within post production. Initially, we start with an assembly cut which is pretty much all of the footage strung together.  Then it goes more into detail, focusing on character arcs, the journey etc. The process in itself is like anything really. You start off wide and narrow it down to precision. After this point, there is no fixed formula for what happens next. Depending on the type of production it is, the film might already be ready to be picture locked and then get ready for sound design, music and colour correction. Or it might be opened for feedback from Financiers, Distributors etc. It really depends on the project and this is something that I love about this industry because no two experiences are the same.
What's the best and worst part of your job?
The best part of job is definitely all the travel involved with it. In the last year, I have been fortunate enough to live in three different cities across Europe and spent some time in Los Angeles. Being able to travel and explore this much but still being able to call it work is truly a blessing. The fact that I have been able to do this during COVID-19 where restrictions have been really high has made this even more unbelievable and made me extremely grateful for the opportunities I have received.
I would not say that there is a worst part per se. But one of the harder aspects of the job is that when you are on set, it essentially becomes an all encompassing world and you cannot do anything outside of that. This usually means that especially when one is starting out they will miss a lot events such as birthdays, weddings etc. So although, you do get a lot of amazing and unique experiences in this industry, there is an element of sacrifice that comes with it. But ultimately, if you are genuinely passionate about the industry it is one worth making.
3 things you wish you knew before you entered the film producer journey?
The biggest thing I wish I knew before entering the industry is the importance of networking. Everything in entertainment is about who you know. I cannot stress enough the importance of this. Nowadays because of how connected everything is, you do not need to necessarily be in the US to start networking. You can connect with plenty of executives at production companies and studios through platforms like LinkedIn. This is something I definitely wish I did more of prior to going to the US.
The second thing is that there is no 'one path fits all' in entertainment. It is such a huge industry with so many opportunities. It is definitely not the end of the world if you are not starting out in the studio system. There are plenty of opportunities in the independent world as well.
You do not need to be the smartest or most skilled candidate to land an entry level position. A lot of things in this industry are taught on the job but the importance of having a positive attitude, being driven and being passionate cannot be understated. When you are on set, you can spend up to 14 hours a day with your team and what I have learnt from veterans in the industry is that when hiring someone the first question they ask themselves is can I spend 14 hours with this person late into the night/early morning daily and not be sick of them. Of course, having a solid foundation of the craft is essential but I would like to emphasize the value of having a good attitude and bringing positive energy wherever you go as well.
3 things you learnt from being a film producer
1. The first thing is to always be nice. This cannot be overstated. The industry may seem huge from the outside but once you start working in you realize that everyone knows each other and word of mouth goes a long way in getting you opportunities and jobs.
2. There are a lot of highs and lows in this industry and this can fluctuate even on a daily basis. It is important to remember that and be centered. 
3. Being able to keep a clear head and make decisions based on logic not emotions is crucial for this industry and although that sounds simple enough, you will be surprised to see how many people struggle to do this in this field.
Share with us the most interesting story/memorable film you worked on?
I was on the set of House of Gucci last year which was amazing. It was the first time that I got to see first hand how a big budget production runs. It was so fascinating and getting to watch industry titans like Sir Ridley Scott, Lady Gaga and Adam Driver work was unbelievable.
Last year, I got to spend 8 weeks in Budapest on the film Get Lost which is a live-action re-imagining of Alice's Adventures in Wonderland. That was one of the coolest experiences that I have had as I had never been to Budapest and we shot everything on live location so it was essentially like we had a private tour of the entire city. It very much felt like we were on a foreign exchange program in Budapest as the entire cast and US crew were all living in neighboring rooms. And since we were under COVID protocols, we could only hang out with each other and so we all got close really quickly which made the shoot an incredibly fun and unique experience.
If you could make a rule that every company should follow, what would you say?
Definitely, allocating 1 hour a day where no one can use their phone/laptop. I know I sound like a grandfather saying this but with the work that I do I am always almost on my phone or laptop and I have found it to be so incredibly liberating taking the occasional break from it. It genuinely helps clear my mind and even inspires new ideas and approaches for projects.
What are the most important skill(s) you learnt at work that can help you with future endeavors?
Easily networking. Back in university I never truly understood the value of it and how many doors it could open. I was more shy and reserved and did not want to leave my comfort zone. But like anything, networking is a skill and one that can be improved by practice. I believe that this skill can help me with future endeavors as being good at networking improves ones odds of connecting with more people in meaningful ways and therefore this could help create more opportunities for me both in entertainment and outside of it as well.
What are you working on next?
I get back to Los Angeles in a few weeks and will accompany an actor on a horror film called Cancelled which I am really excited about. The movie I worked on last summer Get Lost is nearing its final stages of post production. Our editor Jeremiah O'Driscoll and director Daniela Amavia have done such an incredible job with it and it is shaping up to be something truly special. I'm also producing two television shows based off New York Times Bestselling novels, as well as packaging a feature film that is in development with an Academy Award nominated writer attached. The project is very much under wraps at the moment, but if all goes smoothly, we will be shooting not too far from Hong Kong early next year which would be a dream come true.
How do you envision your future role in this industry?
In the future I hope to be a studio executive and be able to develop a slate of Independent Films that are made with fresh and diverse filmmakers. I believe that providing opportunities like this is extremely important. It helps tell new, exciting and innovative stories. The past few years have shown us the importance of diversity within Film and it is one of the key elements that inspired me to pursue this journey and I want to pay it forward.
I also hope to be involved in developing and managing up and coming talent. This is another aspect of the industry that I am passionate about. It is such an incredible experience working with young talent, having them trust you and working in unison to help them achieve their goals and reach new highs both in their professional and personal life and this is something I want to be doing more of in the future as well.
Connect with Hrisheek Panchmatia