Food waste app | CHOMP Hong Kong
Check out our local brand interview with CHOMP, a food waste app in Hong Kong that offers discounts at F&B businesses to rescue food that is about to go to waste. Have some time to swipe some discounts and also lend a hand to saving the environment? 🙂 Some popular shops on CHOMP: Slowood, Livezero, Kale, Miam Bakery and more! Kale is definitely our favourite salad spot in Hong Kong!
Tell us about CHOMP! What inspired you to start this a food waste app?
Carla: CHOMP started as an idea to help reduce the amount of food that was wasted on a daily basis by mostly the F&B Industry. We created an app that helps connect customers who are looking for a good deal or to be more sustainable, with restaurants and F&B businesses who have food and/or drinks in need of rescuing.
Chris and I both did our Bachelors in Switzerland and we were both used to the vast amount of sustainability practices there like home composting and recycling. I was living a very low-waste lifestyle there, and had quite the culture shock when I came back home here in Hong Kong. I wanted to do something that would help and show people that living sustainably doesn't have to be hard or expensive. Our goal since the beginning was to create a solution that was easy to use and one where people didn't have to think twice about.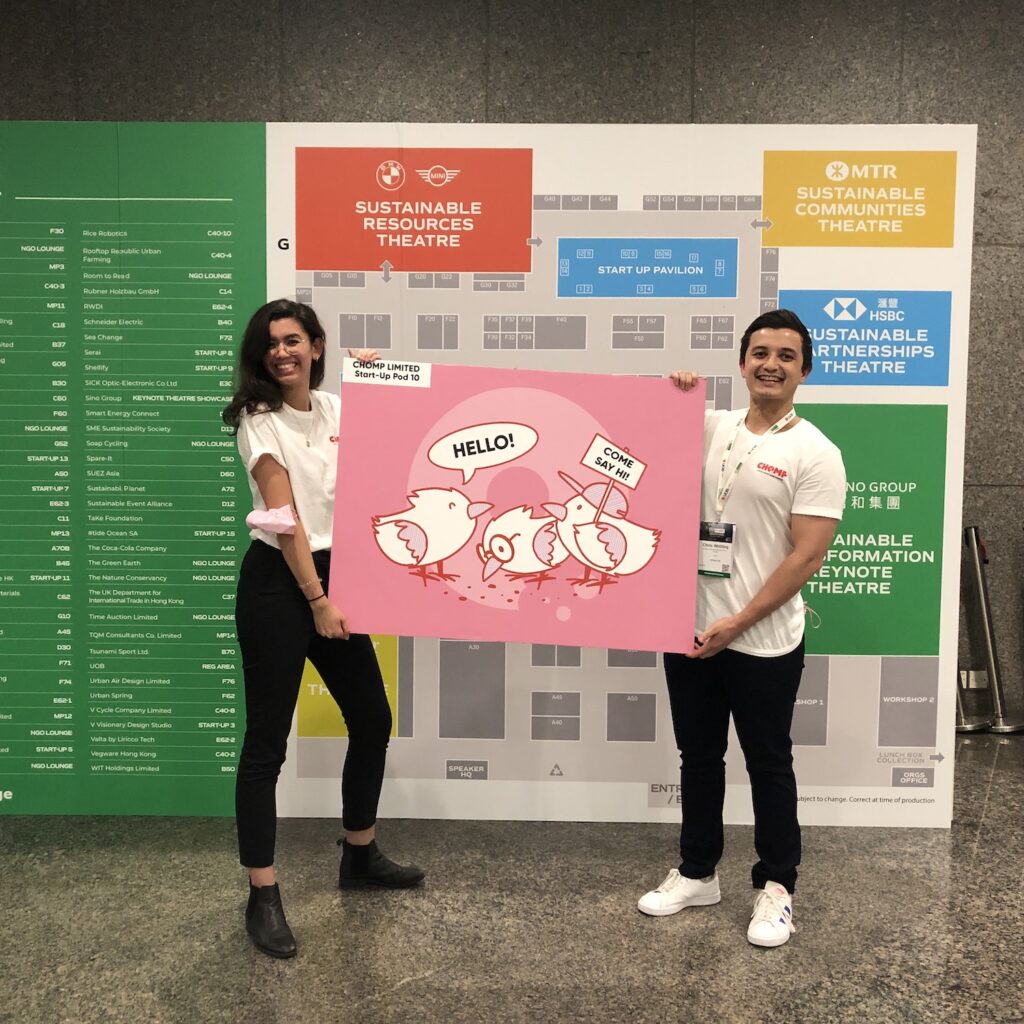 Can you share your journey as an entrepreneur?
When I graduated I wanted to learn another aspect of hospitality and worked in events and marketing. For Chris and I, CHOMP was a side hustle at the beginning, it slowly started to grow to a point where neither of us could continue to do this part-time. There were too many moving parts and it required our full attention. I quit my job and started to work on it full-time, I used my marketing knowledge to build a brand and a marketing strategy, and my F&B knowledge to create a solution that would work for the busy front-line staff. Chris had worked in the events industry previously before moving to do business development for a tech agency. He brought in the know-how of sales, account management and even tech!
Biggest challenge: creating the CHOMP HK app
Biggest challenge so far has been creating the app itself! Chris and I worked with an independent tech company to create the CHOMP app but since it was created from scratch it took us a while to get the functions and details right. We spent many long nights (and all-nighters!) to test and retest the app so that it was perfect and ready to launch. From start to finish, it took us almost a year to plan and create.
We learned quite a few things when we started CHOMP! Something I learnt from other entrepreneurs that I think is very important is to be adaptable. Be ready to pivot and change. Any start-up at the beginning is still trying to find its groove and learn from it's mistakes. Whether it's changing your product, pivoting your target market or switching marketing strategies, be ready to think on your feet!
Gaining experiences to launch CHOMP in Hong Kong
So I went to Hospitality School which included various courses on kitchen training, F&B cost control and restaurant management. I worked at different F&B outlets from restaurants to cafes to even an ice-cream stand! Chris and I also learned a lot about business management, marketing and finance during our studies too. This helped us a lot with building the foundation and getting us in a position where we could launch.
Marketing tip: post what you'd like to see
Post what you'd like to see/watch, not what you think needs to be shared. Very often, people think marketing involves sharing or creating content they think needs to be explained or needs to be said. Of course, everything pushed out needs to have a clear message but at the end of the day, you have to put yourself in the shoes of a customer/follower. What would I like to see if I was a customer of this brand?
Connect with CHOMP Hong Kong