Sustainable period products in Hong Kong | Reusable period underwear, menstrual cup, reusable pads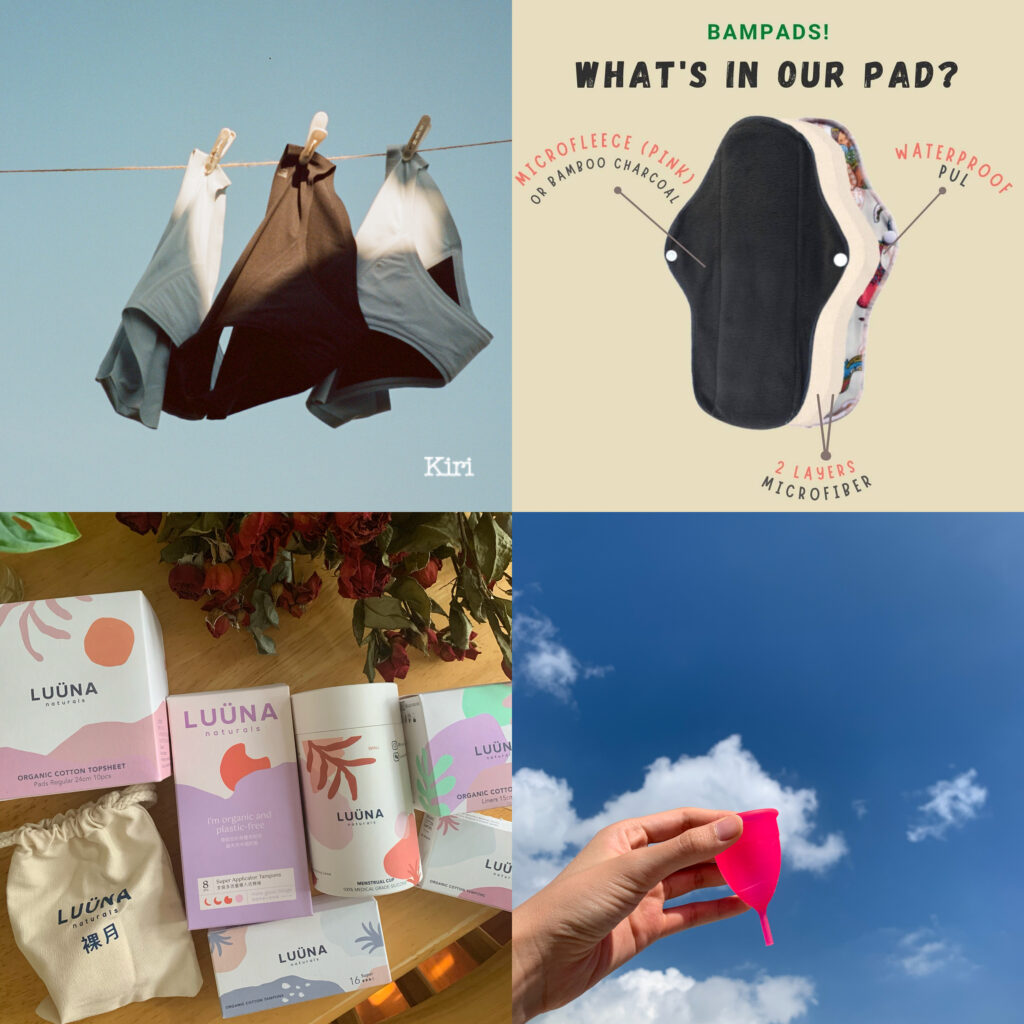 Check out these sustainable period products in Hong Kong from three female hygiene brands in town. They offer eco-friendly reusable pads, reusable underwear, reusable period cups and organic cotton period products. There is something for every female, no matter where they are on the spectrum and what they want to experiment with! Let's dive deeper with the founders and a sneak peek of their journey towards creating sustainable period products in Hong Kong.
1. Period underwear: Kiri Journey
Kiri offers sustainable period products in Hong Kong in the form of reusable period underwears. Let's hear it from Nicolia, the founder of Kiri journey.
Nicolia: "Although Hong Kong has begun to offer more eco-friendly products for feminine hygiene, I still found it difficult to get my hands on period underwear that offered a good fit and high functionality. I have always been interested in sustainable period care and have tried a few brands overseas. 
Furthermore, I wanted a solution to alleviate the anxiety and uncertainty females feel pre-periods and during our periods. I believe that every female in Hong Kong deserves a comfortable, secure and sustainable period products. 
So when my boyfriend, who had worked in the manufacturing industry, was able to source the absorbent pads for reusable period underwear, we immediately jumped on the idea of building our own business. We wanted to design a product that is kinder to the environment, while being able to provide women with extra protection from leaks and accidents during their periods.
We started working on Kiri in May 2021. Slowly but steadily, everything eventually started to come together by late August. Knowing how unique (and perhaps life-changing) this product could be in Hong Kong, we understood the urgency and tried to work efficiently throughout the development process. As expected, there were many sleepless nights, but of course, that is the way startups operate. And I would say, they were all worth it in the end!"
For Our Home Kong readers, you can enjoy a 10% discount with this exclusive Kiri discount code: OURHOMEKONG
2. Menstrual cups: Luuna naturals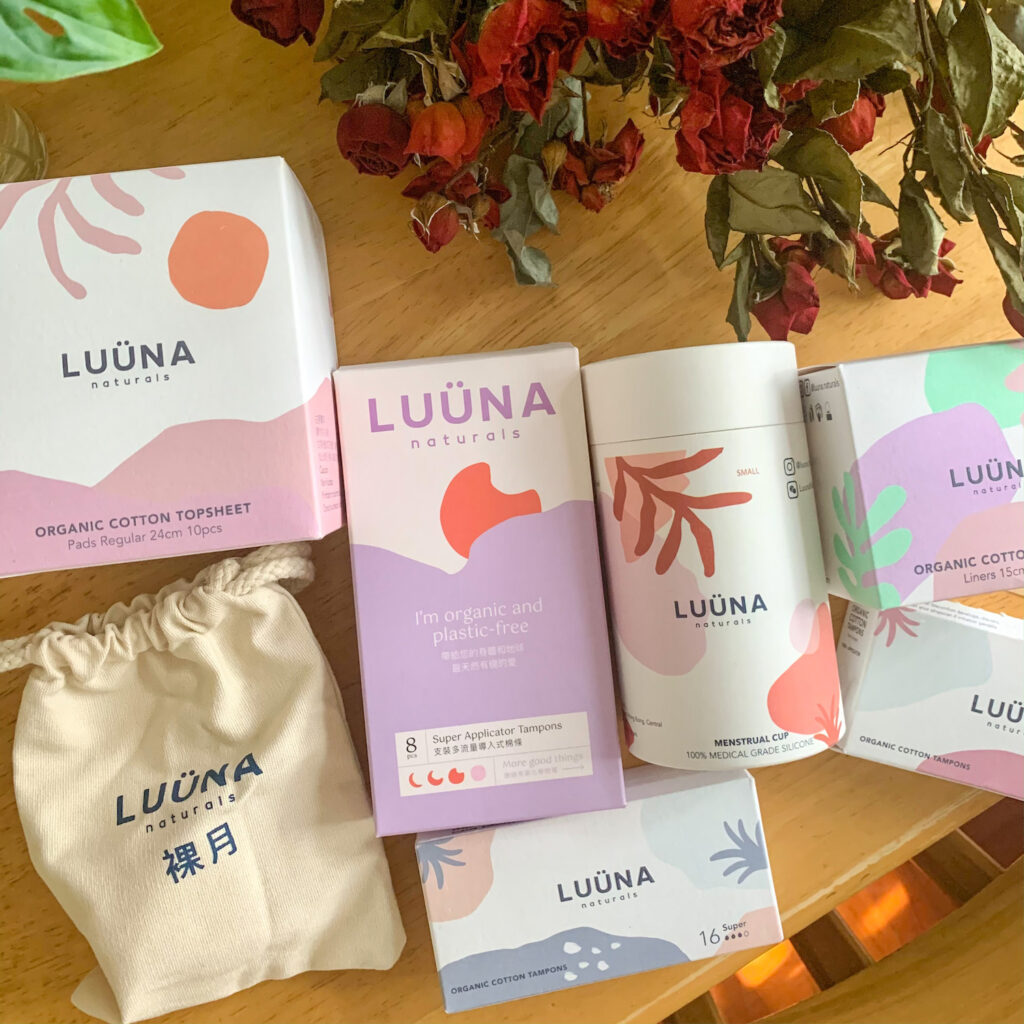 For Our Home Kong readers, you can enjoy a 15% discount with this exclusive Luuna discount code: FLOWERS15
Since Luuna naturals' pads and tampons are made from organic cotton, it feels completely soft, unlike mass produced brands that have synthetic materials and plastic mixed into their pads. If you are looking for breathable pad options and sustainable period products, then you're in the right place! Curious? Here is our full review on the pads and period cup.
3. Reusable period pads: Bampadss
BamPads is a sustainable period product brand that offers reusable period pads: Microfleece and Bamboo Charcoal fabric pads and pantyliners. Let's hear it from Sakshi, the founder of BamPads:
"BamPads! started when my father gave me my first set of reusable pads. My journey with periods was a really horrible journey that I always dreaded getting my periods. When I switched to reusable pads, it was a very comfortable journey and I realized that reusable pads were kind of hard to find in HK. So I thought, why not start BamPads!?
Our reusable pads are manufactured in a safe and hygienic factory in China that my father personally visited. After I realized there is a good market opportunity, I grabbed it and started BamPads!, which is an abbreviation of Bamboo Pads. We sell two types of pads, Microfleece and Bamboo Charcoal fabric night pads and pantyliners as well. It is much more absorbent than normal sanitary pads and safer considering the number of chemicals that might be presented in conventional pads."
What are sustainable period products?
Menstrual cups
Reusable period underwear
Reusable period pads 
Organic cotton period pads (disposable)
Plastic free period products (pads, tampons etc)
Other things to consider: Recycled packaging for the period products, locally produced, lower carbon footprint, ethically sourced materials
Where to get tampons in Hong Kong?
Why do we need sustainable menstruation products?
Sustainable period products are friendly to the environment and can be affordable, especially for developing countries or women in need. It allows women to be able to get the education they deserve, to be able to reach a better quality of life. BamPads' story here covers the issue to do with women receiving less education just because of the lack of reusable period products! 
What is the safest menstrual product?
Nontoxic period products
Reusable period underwear
Cotton, plastic free pads and liners
Menstrual cups
Reusable period pads