Luuna naturals review: menstrual cup, tampon, pads
Check out our luuna naturals review of the menstrual cups, pads and tampons. Are you searching for menstrual cups and pads that are plant friendly in Hong Kong? Luuna naturals Hong Kong offers organic cotton pads and tampons (woohoo!). Healthy and happy periods for the win 🙂 You're also supporting a women founded Hong Kong business that created these menstrual cups and feminine hygiene products!
With the luuna naturals discount code: FLOWERS15, you can enjoy 15% off your purchases! 

We will also share a mini beginner's guide and tips on how to use a menstrual cup at the end of the review. 
Luuna naturals review: luuna menstrual cup
First impressions: The first few times took me 15 minutes to remove, rinse and insert again. Getting used to using a menstrual cup definitely takes some time, so just relax and practice when you're on your period at home 🙂 There was only slight leakage in the beginning, and later on I realized how to ensure that there's suction (you can pull gently on the cup in an up and down motion until you can feel that the cup is in place and doesn't budge as easily anymore)
Comfort: It was super comfortable to use, it almost didn't feel like I was on my period because you couldn't feel a thing! Most importantly, all is clean and breathing down there 🙂 
Convenience: Super stoked to be able to do water sports and other activities now when I'm on my period. The convenience of using luuna's cups is that you don't have to bring pads and tampons with you in your bag. However, luuna does recommend that you rinse your cup with drinking water before re-inserting, so it may be good to bring a water bottle with you when you're out and about. When you're at home or the office, you will have easy access to drinking water. 
The benefit of using a menstrual cup is that it can last for 4-12 hours without having to empty it out, so this is definitely a huge pro and convenience when you don't have to worry about it. If you're on a light flow, you should be good all day before you're home.
Will update again in a few months time to share how long it took me to get used to it and any other tips I learn! 
Luuna naturals review: organic pads
These pads were the best period pads I've used! The fact that it was 100% organic cotton definitely makes a difference. You could definitely feel that it is more soft and breathable (there is no plastic/synthetic feel to it at all compared to other pads you may find at drugstores). Would 100% recommend you guys to check it out and feel it for yourself 😉 Would be hard to go back once you've tried these!
If you're looking for reusable period pads and underwear, we have an article covering three sustainable period product brands in Hong Kong.
Luuna tampons: Luuna naturals review
Will update soon when I've tried these! Still playing around with my period cup 🙂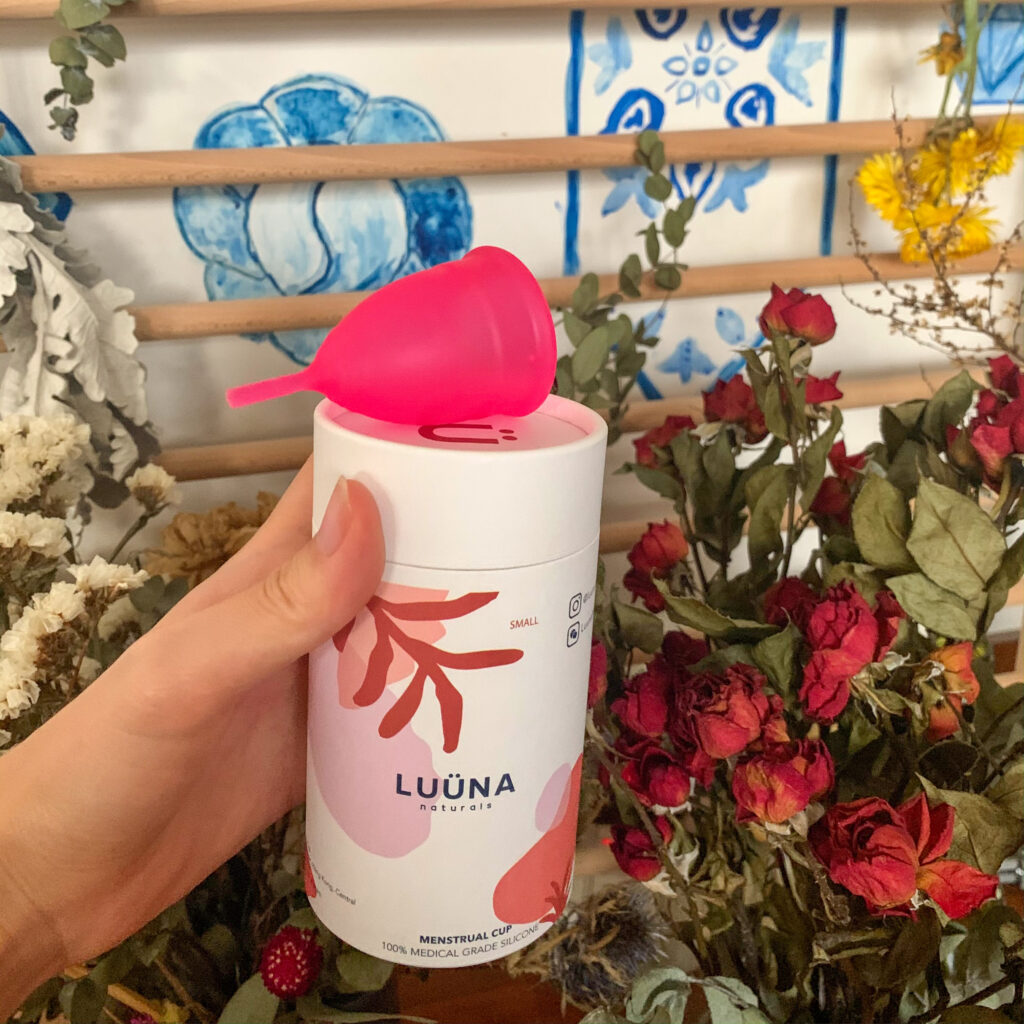 Olivia Cotes-James is Luuna's founder. The Hong Kong brand was founded in 2016 after luuna's founder researched and discovered that ladies deserve a new kind of period care that is healthy, organic and ethical.  
How does a period cup work?
Using a period cup helps to collect the blood that you can then pour away down the toilet. Most period cup guides suggest that they can be worn between 4-12 hours depending on your flow, this means you can wear it before you sleep and empty it in the morning. It can also be worn during exercising, swimming and travelling. 
How to put in a period cup?
There are different methods you can use to fold the period cup before sliding it into the vaginal canal. Find a position that you're comfortable with- it may be lifting one leg up on the toilet or chair or squatting down. It'll be easier if your muscles are relaxed (breathing out helps!)
Boiling menstrual cup: how to clean menstrual cups
To clean a menstrual cup after your period, you can follow the instructions of the brand you purchased. It may be to boil it over the stove for 5-10 minutes or simply to sterilize it with boiling water off the stove. 
If you're emptying the cup and re-inserting it, you can simply rinse with some drinking water after every use. If you're at home and the office, this should be easy to access. If you're out and about, it may be good to bring a bottle of drinking water with you so you can rinse your cup before re-inserting it.
How do I know my period cup size?
What is the easiest way to remove a menstrual cup?
Find a position you're comfortable with and relax your muscles
Use your fingers to reach the bottom of your cup (not the stem!) and pinch it to release the suction before you slide it out
Slide it out at an angle
It will be easier if your fingers are dry so it isn't as slippery. You can also dry the bottom of the cup with a tissue paper to make it easier to grip onto
How long should your period cup stem be?
You should trim the stem of the period cup so that nothing is outside of you, it should be just inside your vaginal canal. Trim the stem when (it's not inserted) and try it on again to see if it needs more trimming (trim a bit at a time only!).
More sustainable period products: