Reusable period pads in Hong Kong | BamPads
Check out our local brand interview with BamPads!, a sustainable period Hong Kong brand that offers reusable period pads and panty liners made from micro-fleece and bamboo. 
Tell us about your business! What inspired you to start this journey?
"BamPads! started when my father gave me my first set of reusable pads. My journey with periods was a really horrible journey that I always dreaded getting my periods. When I switched to reusable pads, it was a very comfortable journey and I realized that reusable pads were kind of hard to find in HK. So I thought, why not start BamPads!?
Our reusable pads are manufactured in a safe and hygienic factory in China that my father personally visited. After I realized there is a good market opportunity, I grabbed it and started BamPads!, which is an abbreviation of Bamboo Pads. We sell two types of pads, Microfleece and Bamboo Charcoal fabric night pads and pantyliners as well. It is much more absorbent than normal sanitary pads and safer considering the number of chemicals that might be presented in conventional pads."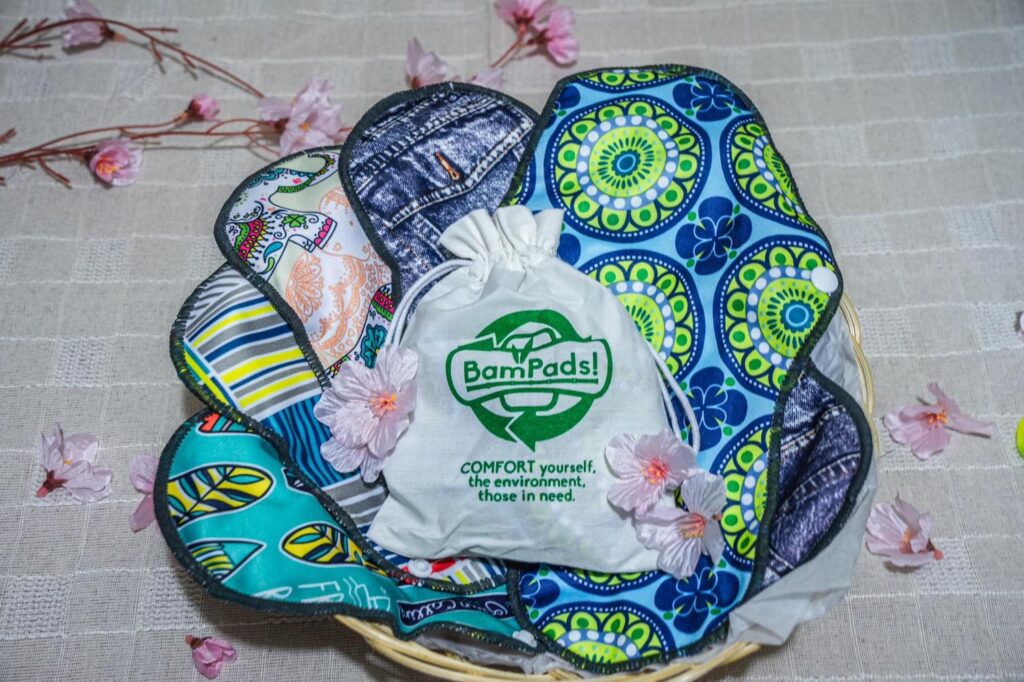 Can you share your journey as an entrepreneur?
"I started BamPads! right when I graduated high school. So obviously I have no experience on starting my own business from ground up. BamPads! opened a world of opportunities for me to grow not only my business, but also myself. I've always been very vocal with girls rights issue and stating my opinion on social media, but it was very baseless, like all I was doing was just talking about issues such as rape, the generational trauma on girls, the different standards between genders on social media. But BamPads! narrowed down my activism to ACTUALLY work on access to healthy menstruation for girls in need.
Being a university student and juggling this alongside is tough, there are days when more time is needed for Uni that I cannot focus on BamPads! or the other way around. So I like to schedule my university schedule in a way where I have 1-2 days off and I completely focus on BamPads! and its development. Having a team also made my work so much easier and I know that my team, the backbone of BamPads! are there when I am not."
Education is definitely important! Did BamPads! face any challenges so far?
"Periods are considered a taboo and private topic that is refused to be talked about openly. That is exactly why many girls and women suffer pain and other problems silently because no one talks about it. Reusable pads are a new concept being brought in HK and of course, not everyone will accept it with an open mindset."
What's something important you've learnt along the way?
"Throughout the course of running BamPads!, I realised that not everyone would be accepting of the idea of reusable pads and it is up to us to educate the public because frankly, no one talks about periods firstly, but now the concept of reusable pads would be even more disgusting and [they would] have a lot of questions too. Hence we decided to hold period workshops where attendees will learn everything about periods and the different sustainable period products without investing so much."
We hope you guys succeed in making periods a more open topic! Can you share previous experiences that helped to shape your brand?
"It was all my personal experience that gave the shape of BamPads! It was the uneasy feeling of wearing plastic during periods, itchy vagina, and icky smell that caused me to start this company because no one was really talking about periods and problems that women face. I also had happened to watch a movie called "PadMan" which brought the issue of period poverty to light, and the more I searched for answers, the more I realised how grave of a situation it is in countries where girls miss 20% of their education JUST BECAUSE OF PERIODS. There are many cases where girls have "sold" their bodies to get money for pads, or using unhygienic methods such as dirty rags, or cow dung wrapped in cloth to sustain their periods.
Education for me is like a godsent gift. I would not be writing this email, if I hadn't received a good education that aided my upbringing, allowing me to create this company. Now imagine, if periods are hindering girls from getting their education more comfortably, then that is the answer of why gender inequality exist in the first place, because girls are not getting the education they need to become the future leaders of tomorrow.
Both my personal experience with using disposable pads, and the eye opening movie that raised the question of quality education shaped how BamPads! operates. We want to provide affordable, comfortable and sustainable menstrual period care products to all so that they do not have to worry about where to get their next set of pads from for 2-3 years."
How do you stand out from your competitors?
"Our pads are made uniquely that 70% of the designs and the way it is stitched is by us. We tried and tested a lot of materials to see which one would provide an ultra comforting experience without the bulkiness and still retain high absorption rate. Our ultra thin pads would make people forget they were on periods because it is very soft to wear. We also have pantyliners for cup users or on spotting days because we don't need that plastic toxicity near our vaginas anytime!"
Comfort is the best 🙂 Can you share a tip with us for people who are also on their entrepreneurial journey?
"Believe in your product/what you do. When days hit hard and you feel like giving up, that belief will pull you up and keep pushing through."
Check out other sustainable period products from Hong Kong brands